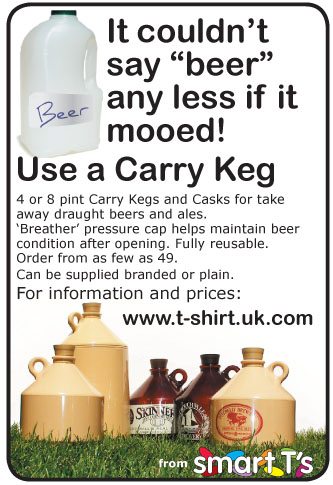 Carry Kegs are the perfect container for the take-away or off-sales market of draught beer, ale or cider. Suitable for
national, medium sized or independent breweries, pubs, clubs and off-licenses alike, Carry Kegs keep your business flowing even when your doors are closed.
Made of durable, lightweight PVC, Carry Kegs are supplied with separate, colour-matched "manual pressure cap" to help retain freshness of the dispensed ale. The "pressure cap" is a simple screw-on lid which, once in place is depressed in the centre to seal but will deploy with any build-up of CO2 if the contents are agitated; depressing reseals the cap
Once cleaned, Keg and Cap are fully re-useable making them ideal for repeat business – quickly reimbursing initial outlay (or brilliant if operating a "deposit" option). Conveniently available in 2.4 litre (approx. 4 pint) and 4.5 litre (approx. 8 pint) capacities, Carry Kegs cater for individuals or for when a party needs variety
Printing is available for either capacity – how better to promote you brand?
Both capacities are stock items and available for immediate despatch; printing may take up to 4 weeks to supply but a more accurate date will be advised once order is in our system and schedules can be arranged
2.4 litre/4 pint capacity Carry Kegs:
available in a choice of colours – either "stone" or "translucent brown"
palletised in layers of 49 kegs to a maximum height of 7 layers (total pallet 343 kegs)
minimum quantity for plain (unprinted) – 49 Kegs
minimum order for branding (printed) – 343 Kegs
maximum print area – 65mm H x 180mm W
maximum number of print colours (per side) 1
4.5 litre/8 pint capacity Carry Kegs:
available in "stone" only
palletised in layers of 49 to a maximum height of 4 layers (total pallet 196 kegs)
minimum quantity for plain (unprinted) – 49 Kegs
minimum order for printed – 392 Kegs
maximum print area 170mm H x 210mm W
maximum number of print colours (per side) 1 homemfarmacia.pt